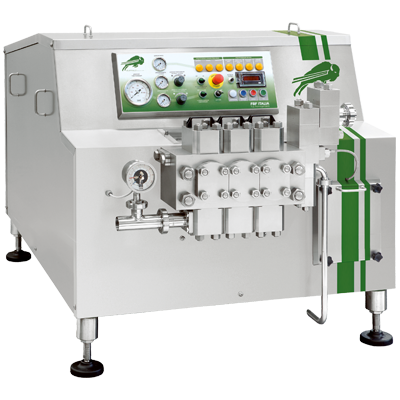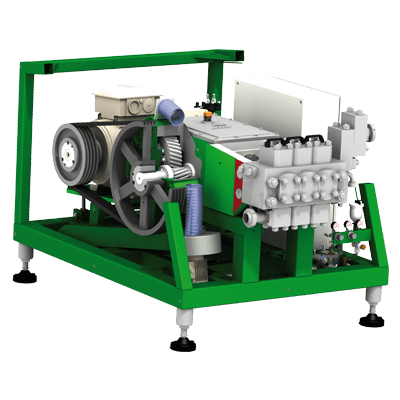 | | |
| --- | --- |
| Weight | kg 1.750 - 1.850 |
| Dimensions | cm 135 x 190 x 140 |
| Power | kw 30 |
| Pistons plungers | Nr. 3 |
| Water consumption | l/h 90 - 120 |
| | | |
| --- | --- | --- |
| Operational pressure (bar) | Flow rate from (l/h) | Flow rate to (l/h) |
| 100 | 6.200 | 11.500 |
| 130 | 6.200 | 10.000 |
| 150 | 6.200 | 9.400 |
| 180 | 5.200 | 7.500 |
| 200 | 4.700 | 7.000 |
| 230 | 4.200 | 6.000 |
| 250 | 3.700 | 5.500 |
| 300 | 3.200 | 4.700 |
Compression Head guaranteed for 5 YEARS against breakage, made from a single block of special type stainless steel, forged and ultrasonically tested.
Valve Groups housed in individual blocks of special AISI 316 stainless steel, each individually inspectable.
Pumping pistons with rear cooling chamber, optimal alignment with double guide, special coating (standard) over their entire length in "Diamond Like Carbon".
Interchangeable Valve Seats and Hemispherical Valves designed to handle a very wide range of products.
Homogenizing valves of high efficiency thanks to a design focused on maximum stability/alignment of the moving element (Impact Head) and the use of a hydraulic push group to avoid any possible onset of vibrations during operation.
Safety valve in sanitary design, operating with a pre-loaded spring with interchangeable shutter and seat.
Pump Body made of high-quality cast iron with high resistance and thick walls, developed to withstand heavy loads and cancel operational vibrations.
Crankshaft made from solid special steel, thermally treated with super-finish of the goose necks and complete nitriding; it is supported by high-performance roller bearings (bushings used exclusively on the goose necks).
Transmission of movement with double reduction stage: trapezoidal belts/pulleys plus a parallel-axis reducer of leading brand (no cooling water required).
Forced lubrication with oil level window located on the front of the machine, irregular pressure alarm, intensive filtering of any impurities. Furthermore, for optimal balance/heat dissipation, all parts dedicated to motion transmission are oil bathed.
Alternating current motor, of leading brand and 4-pole standard.
Frame made with heavy section square steel, powder coated; this solid structure is fully clad in stainless steel panels with a satin finish.
Set of first-use spare parts (complete set of Seals, set of Valve group Springs, Safety Valve set).
Tools for regular maintenance.
Pump Body lubrication oil.
User-Maintenance Manual (2 copies + CD ROM).
Double stage of servo-assisted homogenization (oleopneumatic group).
Digital pressure transducers and analogue pressure gauges with 4-20 mA output signals.
Fixed Flow (internal electrical panel of the machine).
Variable Flow (external stainless steel electrical panel of the machine).
Aseptic Version through the use of sterile condensation barriers produced by a dedicated integrated system.
Compensation Lungs at Product Inlet/Outlet, also specific for aseptic productions.
Product inlet pressure gauge with alarm contact, with timed management of the disconnection-connection of homogenizing valves.
Semi-automatic/automatic control of homogenization pressures.
*Non-binding and subject to change without notice technical specifications.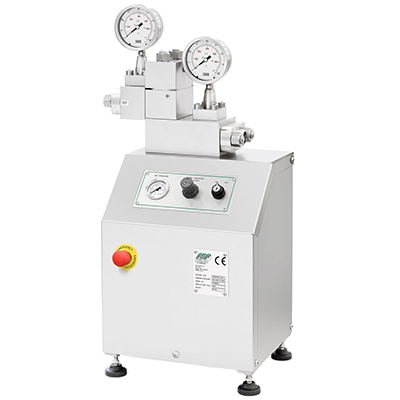 ACCESSORIES
Remote Homogenizing
Valve
Do you have a single-stage homogenizer and want to convert it into a two-stage homogenizer easily, quickly and inexpensively?
Thanks to the Remote Homogenizing Valve (VOD), which consists of a complete homogenizing chamber that can be operated independently of the existing homogenizer, it is possible to transform the single-stage homogenizer into a two-stage homogenizer.
This is made possible by a Remote Homogenizing Valve equipped with a single pressure gauge for reading the homogenizing pressure.